Stay tuned! We'll announce most of our own upcoming classes and events soon, plus some special new projects…
SOUTHCENTRAL
HOMER | Thursday, January 25, 2018, 6 pm | HOME is a Four-Letter Word: A Literary Reading at the Homer Public Library celebrating the release of This is the Place, an anthology of women writing about home. Miranda Weiss is featured in the collection and is using the occasion of the book's release as an opportunity to gather local writers to read their own original works on the topic of home. Other authors include: Rich Chiappone, Justin Herrmann, Erin Hollowell,  Tom Kizzia, Debi Poore, Teresa Sundmark, and Mae Remme.
ANCHORAGE | Friday, January 26, 2018, 6 PM at the Anchorage Museum main atrium | Unbound: Snowfall | From termination dust to spring break-up, snow in Alaska is celebrated and studied. Join Homer-based author Miranda Weiss and local climatologist Brian Brettschneider for an immersive experience of snow and the language of snow. Weiss is a science and nature writer whose book, Tide, Feather, Snow: A Life in Alaska, was a bestseller in the Pacific Northwest. She is currently exploring the world of snow for her second book. Brettschneider is an Anchorage-based environmental planner and climatologist who writes an Alaska weather blog and can often be heard on Alaska Public Media's "Ask a Climatologist" program. Unbound loosens words from the page through experimental literary events. Included with Polar Nights admission. Facebook event | Details
ANCHORAGE | Saturday, January 27, 4 PM | A literary reading and audience discussion with Debbie Moderow and Susan Campbell, writers in the "Microbial Worlds" collaborative arts-humanities-science project. Debbie Moderow will read from her essay, "The Narrow Line: Where Art Meets Science" and Susan Campbell from her collection of poems, Evidence: Poems Inspired by the Microbial World. Carr-Gottstein Academic Center on the Alaska Pacific University campus. Light snacks will be provided. Learn more here.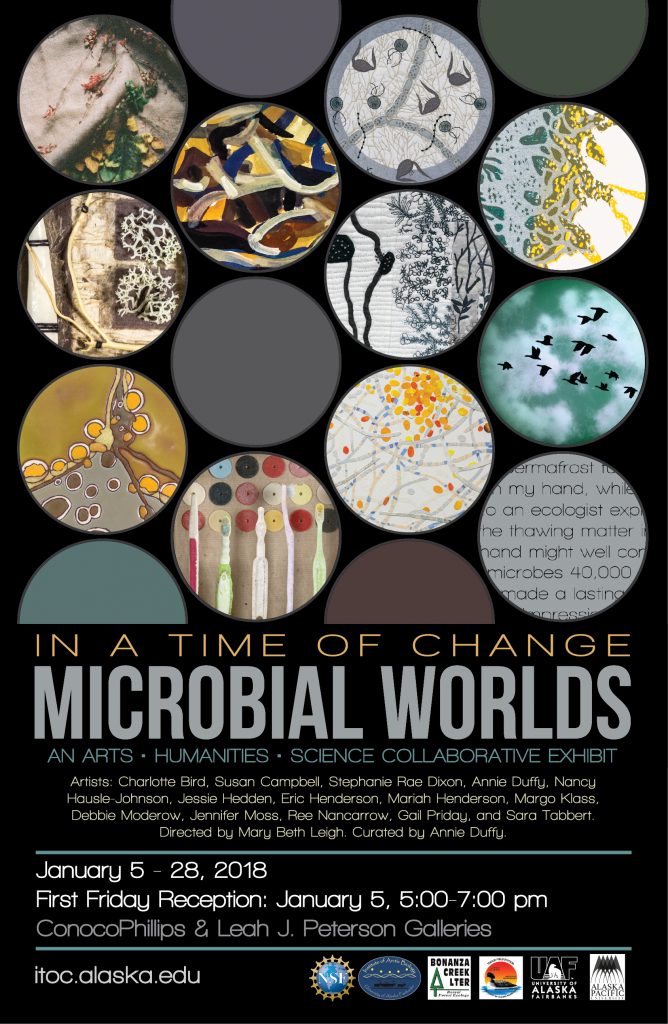 ANCHORAGE | Saturday, January 27, 2018, doors at 7 PM, program begins 7:45 PM. Kathleen Tarr's book release and signing party for her debut nonfiction book, We Are All Poets Here, at The Writer's Block Bookstore & Cafe, 3956 Spenard Road. We Are All Poets Here (VP&D House) is part-memoir and part-biography, and tells a powerful story about the search for an inner life in the midst of a chaotic, fragmented world–a shared journey about spiritual seeking involving world famous Trappist monk and writer, Thomas Merton, and his surprise 1968 sojourn to Alaska. Music, special guests, dessert, and lots of festive mingling and celebration! Food and refreshments also available for purchase at the bookstore's full-service cafe. The book launch event continues until 10:00 PM. Overflow parking in alley and in neighborhood behind the building. Kathleen Witkowska Tarr, long-time Alaskan, is the former program coordinator of UAA's Low-Residency MFA Program. She's a regular Cirque contributor, a William Shannon Fellow of the International Thomas Merton Society, and has taught for 49 Writers. She received her MFA in creative writing (nonfiction) from the University of Pittsburgh. Kathleen lives and works in Anchorage.
ANCHORAGE | First Friday, February 2, 2018, 4:30 pm to 6:00 pm, at the Great Harvest Bread Company, 570 E. Benson Blvd. Book signing by Rick Kullberg, author of Troll Tale: A Saga of Two Young Girls, and exhibition of fantasy photo art from the book.
ANCHORAGE | The UAA Campus Bookstore is holding multiple literary events through January and February 2018. All events are free and open to the public.
Monday, February 5, 2018 from 5-7 PM | Let Your Memoir Be Your Resistance: How Booker Wright's granddaughter, Yvette Johnson, turned his story, and her journey to uncover it, into American History. Johnson will discuss her work on Song and Silence which details her journey in learning about her grandfather's murder and how it changed history. Johnson currently works as the Executive Director of The Booker Wright Project.
Tuesday, February 6, 2018 from 5-7 PM | On the Frontiers of an Inner Life: Kathleen W. Tarr presents Thomas Merton's 1968 Journey to Alaska. Tarr discusses her newly released book, We Are All Poets Here(VP&D House, 2018). Part memoir, part biography, she explores his life as a sequestered monastic, which he led for 27 years as he authored many of his own books on spirituality and civil rights. Tarr herself was named a William Shannon Fellow by the International Thomas Merton Society and currently sits on the board of the Alaska Humanities Forum.
ANCHORAGE | Anchorage Museum presents CABIN FEVER, Saturday, February 3, 2018, 6-9 PM, at Kincaid Park. Cabin fever is a shared experience across Northern latitudes. Although the days of darkness surrounding the winter solstice are blamed for a wide range of ailments, ills and mysterious moods, they also inspire ingenious adaption and humor as a means to cope. Combat and celebrate cabin fever with films, performance, poetry and storytelling. Ski, walk, hike or bike around the multi-use trails near the chalet in Kincaid Park to view and listen to site-specific works. Then re-convene at the chalet to warm up and watch moving image works inspired by the emotional tableau of Cabin Fever. Artists include Jeffry Silverman, with a site-specific installation entitled The Fallen, Fiona Rose as the "Little Tramp," Ron Holmstrom and his cabinet of storytelling prowess, Einari Paakkanen's animations, Bruce Farnsworth's poetry, Kayla Spaan and her Film Jam sidekicks and much more.
ANCHORAGE | February 9, 2018, Anchorage Museum auditorium, 6 PM | Unbound: Faces of Romance | Authors from the Alaska Chapter of Romance Writers of America share their perspectives on romance in the North. Listen to excerpts of published work and examine what makes a good romance novel with Alaska experts in this genre. Note: This program contains adult content. Unbound loosens words from the page through experimental literary events. Included with Polar Nights admission. Event details | Facebook event
ANCHORAGE | Saturday, February 24, 2018 from 10-3 PM (bring a sack lunch and plan to eat on site) | Join Anchorage Daily News writer/editor Julia O'Malley for a half-day 49 Writers workshop called Fancy Seeing You Here on how to write newspaper columns about life in Alaska. The theme: small world-ness, odd connections, and too few degrees of separation. Writers will work on fleshing out narratives and learn strategies for working quickly and structuring complete short pieces. Prerequisite: you must have some idea about the story you want to tell. In the weeks following the workshop, willing writers with promising pieces may work with Julia to revise and polish the piece for possible publication in the ADN. Julia O'Malley is an editor at the Anchorage Daily News and a freelance writer who lives in Anchorage. Her work has been published by The New York Times, The Washington Post, the Guardian, High Country News, National Geographic and Smithsonian Journeys among other publications. She was Atwood Chair of Journalism at UAA for from 2015 to 2017 and has taught non-fiction writing and food writing around Alaska. Find her work at juliaomalley.media. Class will occur at the ADN offices, 300 W. 31st Ave., Anchorage, Alaska, 99503. Registration opens soon, so save the date and plan to register soon if you'd like to participate.
ANCHORAGE | March 1, 2018, 49 Writers Reading & Craft Talk Series presents Kathleen Tarr, author of We Are All Poets Here (VP&D House). 7 pm, location and details TBA.
ANCHORAGE | On Saturday, May 5, 2018 in conjunction with the Spring Friends of the Library booksale, Z. J. Loussac Library will host their first ever Local Author book fair. Authors and illustrators will be featured in the atrium of the library for this one day local author sale. Authors can begin registering on Monday, February 12 at 10 am. Spots will be on a first come, first reserved basis. Learn more and register here.
INTERIOR
FAIRBANKS | Saturday, February 3, 2018 at 7 pm, February Literary Reading Featuring Erica Watson at Fairbanks Arts. Erica will read from a series of short essays, "End Words," "What We Know," and "Self-Regulation," and a portion of "Infinitivo". Her writing has appeared in various journals and websites, and focuses on landscape and language, the intersection of the natural and human-made worlds, relationships, and technology. Her work has appeared most recently in Tin House's Flash Fidelity, ROAR Feminist, and terrain.org. She is currently working on her first book manuscript, and works for an environmental nonprofit.

SOUTHEAST
JUNEAU | Poetry Omnibus is accepting poems  for another year of poems on buses in Juneau. Deadline: January 31, 2018. More details
JUNEAU | Governor's Arts and Humanities Awards Ceremony at Juneau Arts & Culture Center (JACC), 350 Whittier Street, Juneau. ​Doors open at 6:30 PM; Ceremony begins at 7:00 PM. More info and tickets. Tickets are $25.
KETCHIKAN | Friday, March 16, 2018, 6 PM | Nancy Lord presents pH: a Novel at the Ketchikan Public Library.
WRANGELL | Flying Island Writers & Artists group meets every other Monday 6:30-8 PM. Contact Vivian Faith Prescott for more information doctorviv@yahoo.com.
SOUTHWEST
NA
ARCTIC 
NA
CONFERENCES, RETREATS, and RESIDENCIES

TONGASS NATIONAL FOREST | March 1: Deadline for applications for THE VOICES OF THE WILDERNESS ARTIST RESIDENCY PROGRAM for the TONGASS NATIONAL FOREST. Participating artists are paired with a wilderness specialist and actively engaged in research, monitoring, and education stewardship projects. The idea is to give artists a sense of the stewardship behind America's public lands, fostering an artistic exploration of natural and cultural treasures. As a volunteer, each artist will assist with some basic ranger duties, which may include boarding a tour boat to provide education, participating in research projects, walking a beach to remove litter, or other generally light duties. However, the emphasis for the artist will be experiencing the wilderness and exploring how to communicate its inspirational qualities through their artwork. The Tongass National Forest has five participating Wilderness Areas: · Kootznoowoo Wilderness, Admiralty Island National Monument near Juneau · Misty Fjords National Monument Wilderness near Ketchikan · South Baranof or West Chichagof-Yakobi Wilderness near Sitka · Tracy Arm-Fords Terror Wilderness near Juneau · Tebenkof Bay Wilderness near Petersburg. Residencies are open to art professionals in all media: visual (two and three-dimensional: photographers, sculptors, painters, etc.), audio (musicians, singers, composers), film (video/filmmakers), performance artists, and writers (poets, fiction, essays, storytellers). More information and application information is available at https://www.fs.usda.gov/detail/r10/home/?cid=stelprd3820977.
ORCAS ISLAND, WASHINGTON | Friday and Saturday, March 2-3, 2018 | Artsmith is presenting Writer Island: Generosity and Joy with Peggy Shumaker. The workshop will focus on language that opposes hatred and fear, using curiosity and pleasure as a way to heal trauma and pain. Held on Orcas Island, Washington. Visit www.orcasartsmith.org for more information and to register.
PALMER | May 11-13, 2018 SCBWI Alaska's 2nd Annual Alaska Big Thaw Retreat For all Authors: picture book, middle grade, young adult, adult literature, and illustrators at the Knik River Lodge.  Workshops by Stephen Barr of Writers House Lit. Agency, optional critique groups and loads of quiet writing and illustrating time, optional professional critique, AK cuisine, a cabin, a classroom yurt with a wood burning stove, and amazing views, and more. Register
SKAGWAY | May 30 – June 2, 2018 | North Words Writers Symposium in Skagway is now taking registrations for its 2018. Susan Orlean, author of The Orchid Thief, is the keynote writer. Other faculty include Juneau Writer Laureate and Ernestine Hayes, Portland novelist Willy Vlautin, Juneau poet Emily Wall, Ketchikan writer-artist Ray Troll, Washington writer Colleen Mondor, and Fairbanks writer Frank Soos. Features include author panels, writing workshops, and outdoor activities. Limited to 40 participants. Organizers include Buckwheat Donahue, Jeff Brady, Daniel Henry, and John Straley. For more information, see http://nwwriterss.com.
HOMER, ALASKA | June 8-12, 2018 | Registration is open now for the seventeenth annual Kachemak Bay Writers' Conference. Held in Homer, Alaska, this nationally recognized writing conference features workshops, readings and panel presentations in fiction, poetry, nonfiction, and the business of writing. Keynote presenter Anthony Doerr, Pulitzer Prize winner and National Book Award finalist, will be joined by fifteen other writers, poets, and publishing industry professionals. Optional manuscript reviews, agent/editor meetings, post-conference workshop and boat cruise. Scholarships available. All information and faculty bios at our website: http://sites.kpc.alaska.edu/writersconf/.
TUTKA BAY LODGE | The 9th Annual 49 Writers Tutka Bay Writers Retreat will take place September 7-9, 2018. Retreat details to be announced soon along with application information.
OPPORTUNITIES and AWARDS for WRITERS
Permafrost Magazine | 2018 New Alchemy Contest deadline April 15, 2018. All formats welcome. $500, publication, and web feature prizes. More details.
Rasmuson Foundation is now accepting Individual Artist Awards grant applications. Project Awards and Fellowship nominations are due March 1, 2018. Learn more
The Salmon Shadows Call for Art is now open! This public arts and humanities project seeks to highlight struggles for equity and sustainability in Alaska's salmon system. Salmon Shadows is a collaboration among the Alaska Humanities Forum, Alaska Salmon Fellows, and Island Institute. The project invites artists and writers to submit works that will travel to communities across Southeast Alaska during the Island Institute's upcoming Tidelines journey. The art and writing will be illuminated via light projector in the visited communities and used to spark critical conversations about Alaska's salmon system. Selected works will be published in Forum, the Alaska Humanities Forum's award winning magazine. The deadline for submissions is March 15, 2018. A blog post about the project can be found here | The submission form and full project information can be found here.
~
What's missing? Submit your announcement for the next Roundup. Send an email with "Roundup" as the subject to info@49Writers.org. 
Thank You for Your Support! 49 Writers members and donors make this blog, our workshops, Crosscurrents events, Readings and Craft Talk series, and other special programs and activities possible. Not a member yet? Join Us 
49 Writers, Inc. is supported, in part, by a grant from the Alaska State Council on the Arts and the National Endowment for the Arts.