Have news, events, or opportunities you'd like to see listed here? Email details to info (at) 49writers.org with "Roundup" as the subject. Spread the word. Your message must be received by close of business the Wednesday before the roundup is scheduled to run at the latest. Unless your event falls in the "Opportunities and Awards" category, it should occur no more than 30 days from when we receive your email. Thanks! 49 Writers Statewide Roundup will now appear biweekly, on the first and third Friday of each month.  
 EVENTS and ANNOUNCEMENTS
We're awfully excited about this coming Monday's program downstairs in a newly-remodeled, warm space downstairs at the 49th State Brewing Co, featuring author Kathleen Dean Moore and songwriter Libby Roderick. We'll have our own private bartender tending a full cash bar and a pile of Kathy's new novel, Piano Tide, for sale and signing. Do not miss it if you can make it, and please help us spread the word any way you can. Here's the Facebook event.
Next, with support from the Alaska Humanities Forum, we're bringing poet Roger Reeves to Alaska on a three-city tour in cooperation with partners Juneau Public Libraries and University of Alaska Fairbanks, February 14-18, 2017. He'll read and visit high schoolers in Juneau on Feb. 14, teach a three hour poetry workshop in ANC on Feb 15 (register soon!) and participate in a 49 Writers Crosscurrents event with Joan Naviyuk Kane on Feb 16, and then travel to Fairbanks to offer a craft talk on campus, a public Midnight Sun Reading Series reading on Feb 17, and one-on-one critiques with students.
We're proud to announce, as well, another special partnership with the Alaska Humanities Forum, whose mission is to connect Alaskans through stories, ideas, and experiences that positively change lives and empower communities. Our own mission, as you know, is to support the artistic development of writers throughout Alaska, foster a writing community, and build an audience for literature. In 2016, the Alaska Humanities Forum and 49 Writers partnered to launch Danger Close: Alaska, an Anchorage-based writing workshop, public panel discussion, and small-run publication seeking to bridge the military-civilian divide by uniting veterans and civilians in the task of producing high-quality, war-themed writing. That was spearheaded by now-board member Matthew Komatsu, a writer pursuing his creative writing MFA through the fantastic low-residency University of Alaska Anchorage program.
In 2017, 49 Writers and Alaska Humanities Forum will partner again to host a reprisal of Danger Close: Alaska, which will re-engage the Anchorage community through a public panel discussion and expand to Juneau through a craft workshop ("Danger Close: Juneau") and public Reading and Craft talk. All events will feature Brian Castner, author of The Long Walk and All the Ways We Kill and Die. This program falls under AKHF's Duty Bound initiative.
Thu, 9 Mar: 49 Writers Crosscurrents: Who Owns the Story? (Brian Castner, Don Rearden, & moderator Matthew Komatsu)
Fri, 10 Mar: Castner Reading & Craft Talk event in Juneau
Sat, 11 Mar: Danger Close: Juneau Workshop (six hour writing workshop, with veterans/active duty/retired military incentive discount)
Class registration is open in JNU, ANC, and FAI and seats are limited. Browse the course list and register soon!
Happy Five Year Publication Anniversary for The Snow Child to Eowyn Ivey! #SnowChildDay
Have you filed for your PFD, yet? Please consider 49 Writers when you Pick.Click.Give. and share a portion of your dividend to help support our work supporting writers and readers across the state.
Wondering why you don't get these blog posts in your email inbox like the old days? Please enter your email address in the Subscribe field in the sidebar to the right, and then confirm your subscription when you get a related email.
Thanks to Alaska Quarterly Review and everyone who attended the very special Gary Holthaus retrospective celebration. Stay tuned sometime in the future for audio recordings of the readings.
SOUTHCENTRAL
PALMER | Julie LeMay will sign The Echo of Ice Letting Go (University of Alaska Press | Alaska Literary Series 2017) on Friday, February 3, 2017 at Fireside Books, beginning at 4 pm. The signing will be followed at 6pm with a sold-out ticketed dinner at Turkey Red, including a book discussion between Julie and her daughter, Eowyn Ivey. Meanwhile, stream Julie's Radio Free Palmer interview here, and save the date, Mar 6, for her 49 Writers appearance in JNU.
ANCHORAGE | 49 Writers presents Kathleen Dean Moore and Libby Roderick, 7 pm, doors at 6:30 pm, Monday February 6, 2017, 49th State Brewing Co., Barrell Room East, 717 W 3rd Ave, Anchorage. Cash bar. Free for 49 Writers members, $5 suggested donation for nonmembers. | Piano Tide, Kathleen Dean Moore's debut novel, has been called a "savagely funny and deeply thoughtful book," an "eco-thriller," a "rare beauty," an "action adventure," and a "natural history of SE Alaska." It is all these and more, the story of Nora Montgomery, who arrives with her upright piano in a tiny tidewater village. With the most affable and odd accomplices at the last stop on the ferry, she decides to block a plan to export the water from a salmon stream. They pull off a splendid, splashing act of resistance, but at what cost? With readings and music, Kathleen and Libby will introduce readers to Piano Tide. Then they will lead an informal conversation about what the planetary emergencies – global warming, extinction, social and environmental injustice, extractive industries run amok – ask of us a writers and artists.
ANCHORAGE | Tuesday, February 7, 5 pm UAA Campus Bookstore: Andrea Gregovich discusses translating the novel, Wake In Winter by Russian author Nadezhada Belenkaya. Wake In Winter is set in the provincial town of Rogozhin, which is a driving distance from Moscow.  It is a story about a talented graduate student, Nina Koretskaya, who finds an opportunity to earn money by translating and interpreting Spanish by working for an adoption agent named Ksenia.  As Nina gets herself more and more involved in the adoption process, she becomes emotionally disturbed by the children she attempts to help, and finds herself involved in what looks more and more like an adoption mafia. Andrea Gregovich earned an MFA in Creative Writing from University of Nevada Las Vegas. Her translation of USSR, Diary of a Perestroika Kid by Vladimir Kozlov has been widely acclaimed. Russian author Nadezhda Belenkaya, born in Moscow, has a degree in Hispanic studies and literary translation from the Gorky Literary Institute. Wake in Winter is her first novel. Free parking for this event in the South Lot, Sports Complex NW Lot, West Campus Central Lot, Sports Campus West Lot.
ANCHORAGE | Unbound: Conflict in Romance presents at 6 p.m., Friday, February 10, at the Anchorage Museum, featuring Alaska Romance Writers for readings and literary experiments. Lifelong Alaskan Lynn Lovegreen taught for 20 years before retiring to make more time for writing. Her young adult/new adult historical romances are set in the Alaska Gold Rush. Palmer writer Jackie Ivie branched into the paranormal romance genre after publishing several award-winning historical romances. She received the 2016 International Digital Award for best paranormal short story with the debut of her dark angel series, "The Hunted." She's currently researching, writing, and dreaming about the "Vampire Assassin League," a series where only the luckiest vampires find their mate, the "Chronicles of the Hunter" where dark angels get another chance, or her newest time travel series "The Portals of Time." Maxine Mansfield writes fantasy, erotic romances, and fairytales for grownups. She lives in the far northern state of Alaska where the summer days are long and the winter nights even longer, and has seven delightful grandchildren in her life, a very bossy African Grey parrot named Gabriel, and gnomes! Many, many gnomes. Alaska-grown author, Tam Linsey builds post-apocalyptic worlds with a twist of romance. Add in cannibals, immortals, and Amish and one reader says, "It sounds like utter craziness but I assure you that it all works." When Tam's not smashing her head against her keyboard (also known as writing), you can find her in the garden or the kitchen prepping for the apocalypse. She is graciously allowed space to live and write by her house rabbit, Abigail. (In spite of the impending apocalypse, she has determined rabbits are not food.) You can find out more about her at www.tamlinsey.com Included with Museum admission.
ANCHORAGE | Chantelle Pence presents Recovering Our Human Heritage. UAA Campus Bookstore, Saturday, February 11, 2017, 1-3 pm. Chantelle Pence and a panel of "indigenous minds," including Fred John Jr. and  Karen Evanoff, discuss the task of recovering our human nature as a collective people. Indigenous perspectives are often not recognized or acknowledged in modern day life, yet they provide guidance and pathways for walking as a true human being, which is everyone's birthright. Chantelle Pence is author of Homestead Girl: The View From Here, a patchwork quilt of poetic essays that covers the human condition, from the perspective of a woman who came of age in rural Alaska. The short prose pieces are stitched together with a thread of love for our ancestral heritage, and a prayer that the people of Alaska, and beyond, will pay attention to the earth based cultures that are rapidly changing. The author believes that "Alaska is the last chance (in America) we have to get it right, in terms of our relationship to the land and her people." Free parking at UAA on Saturdays. For more information contact Rachel Epstein at repstein2@alaska.edu or 786-4782.
ANCHORAGE | Monday, February 13, 5 pm at the UAA Campus Bookstore: Author of Historical Vampire Fiction. Bruce Woods presents Royal Blood. In Royal Blood, Vampire Paulette Monot is recruited by Sherlock Holmes, financier Cecil Rhodes, and actress Lady Ellen Terry to venture to Matabele-land to secure the establishment of the nation Rhodesia. "Thoroughly accurate in its descriptions of the period in which it takes place, it uses the language of Victorian fiction in an otherworldly narrative of adventure, passion, and a distinctly vampiric coming of age." Bruce Woods is a professional writer/editor with more than 30 years in magazine publishing, having worked as editor of Mother Earth News and Alaska Magazine, among others, and  has published both nonfiction and poetry books. He lives in Anchorage, Alaska with his wife Mary Sonninchsen. Free parking for this event in the South Lot, Sports Complex NW Lot, West Campus Central Lot, and Sports Campus West Lot.
ANCHORAGE | Poetry workshop with Roger Reeves, February 15, 2017, 6-9 pm, Alaska Humanities Forum, 161 E 1st Ave #15, Anchorage, AK 99501. Open to all levels. Obsession and Revision: In this poetry workshop, we will close-read two poets: Larry Levis and Brigit Pegeen Kelly. In close-reading these two poets, we will examine how they revise the poem within the poem, playing with image, diction, and rhetoric. What I hope we accomplish through this investigation is an understanding of how an image is deployed in a poem, and through interrogating the image, through a constant re-working of the image, how the poem is generated. Register now!
Roger Reeves received an M.F.A. in creative writing and a Ph.D. in English from the University of Texas, Austin. His poems have appeared in Poetry, Ploughshares, American Poetry Review, Boston Review, Tin House, Best American Poetry, and the Indiana Review, among other publications, and he was included in Best New Poets 2009. Reeves was awarded a Ruth Lilly Fellowship from the Poetry Foundation in 2008; he is also the recipient of two Bread Loaf Scholarships and a Cave Canem Fellowship. In 2012, Reeves received a National Endowment for the Arts Fellowship and a Pushcart Prize for his poem "The Field Museum." He is an Assistant Professor of Poetry at the University of Illinois, Chicago, and a 2014–2015 Hodder Fellow at the Lewis Center for the Arts, Princeton University. King Me (Copper Canyon Press, 2013) is Reeves's first book.
ANCHORAGE | February 15, 2017, Barnes & Noble, 7 pm | Alaska Writers Guild presents An Intro to Hybrid Publishing, by Lizbeth Meredith, author of Pieces of Me: Rescuing My Kidnapped Daughters. Lizbeth will share lessons learned in her journey to publication working with She Writes Press. Not traditional, self, or vanity publishing, this model of publishing offers new rewards and challenges for authors in connecting with their world. Lizbeth is a writer based in Alaska with a bachelor's degree in journalism and a master's degree in psychology. She has worked as a domestic violence advocate and a child abuse investigator, and with at-risk teens as a juvenile probation supervisor. Her memoir, Pieces of Me: Rescuing My Kidnapped Daughters, was published recently and is a  USA Best Book Award finalist for 2016.
ANCHORAGE | 49 Writers presents Crosscurrents: Poetry & Politics with Roger Reeves & Joan Kane | 7 pm (doors at 6:45), Thursday, February 16, 2017, location TBA. Poets Roger Reeves and Joan Naviyuk Kane discuss lyric (dis)equilibriums that spring from selves variously sourced by the South and the North, from past and history, and the ways that place informs our perspectives as readers, writers, and teachers of poetry. Free to 49 Writers members, $5 suggested donation to non members. Books available for sale and signing. Cash bar.
ANCHORAGE | February 24, 2017, Alaska Quarterly Review presents Mary Odden: March and the new AQR issue, in partnership with Alaska Humanities Forum and 49 Writers. Great Harvest Bread Co. Mary Odden's essays have appeared in The Georgia Review, Northwest Review, Nimrod, and in an anthology of writing and art, Under Northern Lights, edited by Frank Soos and Kes Woodward. Her book of essays, Mostly Water, will be published by Red Hen Press.
ANCHORAGE | March 2, 2017, 49 Writers Reading & Craft Talk Series presents "Surprise and Delight: Capturing the Indelible Moment" by Daryl Farmer, author of Where We Land: Stories (Brighthorse Books, 2016). 7 pm at Indigo Tea Lounge, 530 E Benson Blvd, Anchorage, AK 99501. Come early to order tea and snacks! Daryl Farmer is the author of  Where We Land, a collection of short stories and Bicycling Beyond the Divide, winner of a Barnes and Noble Discover Great New Writers Award and also named as a Colorado Book Award finalist. He was born in Colorado Springs, at the foot of the Rocky Mountains where he developed a taste for the open road at an early age, and has spent a life roaming the country and writing about its landscapes and people. He has lived in New Mexico, Oregon, New Hampshire, Mississippi and Alaska, among other places. He received a B.A. in physical education from Adams State College (Alamosa, Colorado) and an M.A. and Ph.D. in creative writing from the University of Nebraska-Lincoln. He has taught writing at Georgia Tech. University, Stephen F. Austin State University in east Texas and the University of Alaska-Fairbanks where he is currently an assistant professor and director of the MFA in Creative Writing program.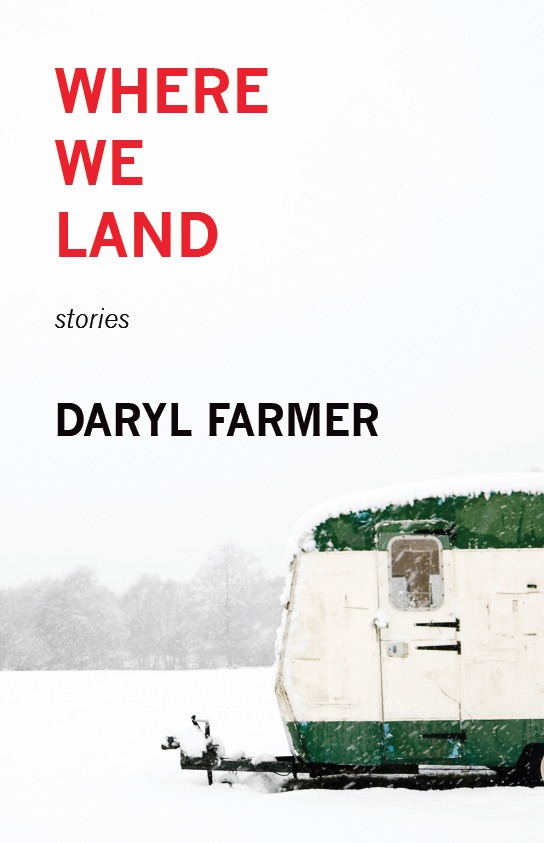 ANCHORAGE | March 31-April 1, 2017 | Organized by the graduate students within the University of Alaska Anchorage English department, the Pacific Rim Conference on English Studies invites submissions in literature, rhetoric and composition, linguistics, anthropology, history, journalism, gender studies and other related fields.
EAGLE RIVER | The Living Room Reading Series, every 2nd Wednesday 7-9 pm at Jitters, features writers and book lovers. Sign up to read, or come listen. More Next one is Wednesday, Feb 8, 2017!
INTERIOR 
FAIRBANKS | UAF's Midnight Sun Reading Series presents poet Roger Reeves in partnership with 49 Writers, Juneau Public Libraries, and Alaska Humanities Forum. Friday, February 17, 2017.
FAIRBANKS | 2017 Writing in the Dark Retreat with author Jean Anderson. Full-day workshop, focusing on Kindling the Fires: Creating Enduring Prose in a Cold Place. More info and registration.
FAIRBANKS | Fairbanks author and wilderness guide Michael Engelhard will read from and sign his two most recent books, American Wild: Explorations from the Grand Canyon to the Arctic Ocean and Ice Bear: The Cultural History of an Arctic Icon, at the Northern Alaska Environmental Center (830 College Road), on February 24, from 5:30 to 7:30 PM. Also, wherever you are, check out Engelhard's radio interview with author Charles Wohlforth here. The presentation will include a brief slide show, "Beast of Many Faces."
FAIRBANKS | Fairbanks Arts Association hosts the oldest literary reading series in the state. Nearly every month, writers reading their own work publicly at a community meet-up where people can connect with other lovers of literature. Readings are held on the day after First Friday, usually the first Saturday of the month at 7 pm. Most reading are held in the Bear Gallery in Pioneer Park, although occasionally in the summer (June, July, and August) the weather is beautiful reading are held outside to another spot in Pioneer Park. Additional readings and events may be held, but the First Saturday Literary Reading Series is monthly at 7 pm the day after First Friday (except February).
SOUTHEAST
JUNEAU | February 3, 2017, 4:30-7:30 pm, Annie Kaill's, Book Signing and Artist Reception for John Straley's 100 Poems of Spring, illustrated by Norm Campbell (Shorefast Editions).  JUNEAU | February 4, 2017, 4-6 pm, Juneau-Douglas City Museum. Reading and discussion by John Straley, author of 100 Poems of Spring, (Shorefast Editions).  
JUNEAU | Poet Roger Reeves will offer a 49 Writers Reading & Craft Talk Series event at Mendenhall Valley Library's Large Meeting Room, 6
pm, February 14, 2017. Free. Parrhesia in a Post-Fact Regime | What is truth, and how does one speak truth in a post-fact, post-truth era? How should poetry, an art form firmly invested in fiction, artifice, as well as multiple types of truth, embrace or look askance at a contemporary moment and modality that no longer adheres to logic? In this craft talk and reading, using the rhetorical figure of parrhesia, which means to speak candidly and boldly in the face of authority even under the threat of death, I will investigate how poetry and poets might utilize parrhesia as both resistance and potential engine for the creation of poems and poetry. Through consideration of texts that range from the *Iliad* to Solmaz Sharif's *LOOK,* we will examine how these texts engage and participate in both truth, parrhesia, and invention. FREE in partnership with Juneau Public Libraries. [Roger Reeves will also teach and appear in a Crosscurrents event in Anchorage, and teach and read in Fairbanks through UAF's Midnight Sun Reading Series]
Reeves received an M.F.A. in creative writing and a Ph.D. in English from the University of Texas, Austin. His poems have appeared in Poetry, Ploughshares,  American Poetry Review, Boston Review, Tin House, Best American Poetry, and the Indiana Review, among other publications, and he was included in Best New Poets 2009. Reeves was awarded a Ruth Lilly Fellowship from the Poetry Foundation in 2008; he is also the recipient of two Bread Loaf Scholarships and a Cave Canem Fellowship. In 2012, Reeves received a National Endowment for the Arts Fellowship and a Pushcart Prize for his poem "The Field Museum." He is an Assistant Professor of Poetry at the University of Illinois, Chicago, and a 2014–2015 Hodder Fellow at the Lewis Center for the Arts, Princeton University. King Me (Copper Canyon Press, 2013) is Reeves's first book.
JUNEAU | You have until February 25, 2017 to view an exhibition by poets Aleria Jensen and Jonas Lamb featuring a collection of original broadside poems on parenting and place, paired with montages of artwork by their children. The writing in this exhibit explores moments and musings that inform the experience of raising family in Southeast Alaska. These pieces are windows into family life and parenting against the backdrop of culture and community in Juneau, as well as the marine rainforest environment we call home. Juneau-Douglas City Museum, 114 West 4th Street.
JUNEAU | 49 Writers presents poet Julie LeMay, author of The Echo of Ice Letting Go (University of Alaska Press | Alaska Literary Series 2017) with Jeremy Pataky, author of Overwinter. March 6, 2017. Details TBA.
JUNEAU | Poetry Out Loud National Recitation Contest state finals. Juneau Arts and Humanities Council. Details TBA.
JUNEAU | 49 Writers and Juneau Public Libraries present author Brian Castner in Danger Close: Alaska in partnership with Alaska Humanities Forum, through their Duty Bound initiative. Brian Castner is a nonfiction writer, former Explosive Ordnance Disposal officer, and veteran of the Iraq War. He is the bestselling author of All the Ways We Kill and Die, and the war memoir The Long Walk, which was adapted into an opera and named an Amazon Best Book for 2012. A contributing writer to VICE, his work has also appeared in the New York Times, Washington Post, The Atlantic, Wired, Foreign Policy, Outside, Buzzfeed, Boston Globe, Time, The Daily Beast, the Los Angeles Review of Books, and on National Public Radio. He has twice received grants from the Pulitzer Center on Crisis Reporting, to cover the Ebola outbreak in Liberia in 2014, and to paddle the 1200 mile Mackenzie River to the Arctic Ocean in 2016. His latest project, a co-edited collection of short stories titled The Road Ahead, was published this month. His time in Juneau includes two events:
1) Friday, March 10, 2017, 6 pm at the Mendenhall Valley Library's Large Meeting Room (free), a 49 Writers Reading & Craft Talk Series event titled "Who Owns The Story?" Joan Didion said that a writer is always selling somebody out. Brian Castner will talk about his new book, "All the Ways We Kill and Die," the story of the death of a fellow soldier and search for the Afghan bomb-maker who killed him, and what nonfiction authors owe their subjects when writing about their innermost lives.
2) Saturday, March 11, 2017, 10 am – 4 pm, location TBD, Brian will lead a full-day nonfiction writing workshop open to everyone, including civilians, active duty and veterans. Registration and full description coming soon.
                                                                   SOUTHWEST
NA
ARCTIC 
NA
CONFERENCES, RETREATS, and RESIDENCIES
North Words Writers Symposium will be May 31-June 3, 2017 in Skagway, Alaska. This year's keynote speaker is world world travel and fiction writer Paul Theroux. After writing nearly fifty books of nonfiction and fiction set in the most exotic of locales, America's greatest travel writer is finally headed for one of Alaska's most notorious: Skagway. Paul Theroux will lead a faculty of seven acclaimed authors at the 8th annual North Words Writers Symposium. A maximum of 50 registrants at the 2017 North Words Symposium will also engage with a faculty of Alaskan writers that includes John Straley, Sherry Simpson, Deb Vanasse, Tom Kizzia, Andy Hall, and Lenora Bell. Learn more and sign up soon; 50 participants max. northwordsinfo@gmail.com
2017 Kachemak Bay Writers Conference will occur June 9-13, 2017 in Homer, Alaska. Keynote speaker will be Jane Smiley. Details and more.
2017 Writers Tutka Bay Writers Retreat will occur September 10-12, 2017. Faculty to be announced soon. Details.
The Alderworks Alaska Writers and Artists Retreat in Southeast Alaska is now accepting applications for its summer 2017 cabin residencies. Three log cabins will be available as residencies for two 4-6 week periods in early and late summer. The application period for these residencies began on November 15, 2016 and will end on February 15, 2017. The retreat is located nine miles from historic Skagway at the northern end of Lynn Canal.  Situated on a five-acre homestead along beautiful West Creek at the end of the Dyea Road, the retreat is within the Dyea-Chilkoot Trail unit of Klondike Gold Rush National Historical Park. Dyea (pronounced Die-eee) was a jumping off point for young Jack London and other stampeders in 1897-98. For hundreds of years leading up to that event, Dyea was a Tlingit fishing and trading village. Testimonials, a photo gallery, cabin descriptions, residency guidelines, and information about how to apply online may be viewed at www.alderworksalaska.com. The cabins are best suited for writers, artists working in small mediums, and acoustic singer-songwriters. All residents must have a degree of self-reliance, as they will be doing their own cooking and working on their own schedule. In their vision statement, the Bradys state, "The idea is simple enough: give writers and artists a quiet, beautiful spot to create or enhance their works, and wonderful things will happen."
OPPORTUNITIES and AWARDS for WRITERS
The Governor's Awards for the Arts and Humanities ceremony was held in Juneau on Thursday, January 26, 2017. Missed it? Stream it here.
35th annual UAA/Alaska Dispatch News Annual Creative Writing Contest is accepting entries. Deadline: 5:30 pm, February 12, 2017. Over $800 is cash prizes. Details
23rd annual Statewide Poetry Contest now accepting entries. Deadline: 6 pm, February 15, 2017. Administered by the Fairbanks Arts Association, this year's contest will be judged by Jeremy Pataky. Cash prizes. Details
Alaska Women Speak's Spring 2017 reading period is open. Theme: The Road Not Taken. Deadline: February 15th. New email address: akwomenspeak@gmail.com. Additional info on the website: www.alaskawomenspeak.org
Rasmuson Foundation 
applications for 
Individual Artist Awards
are open until March 1, 2017. The Foundation will host a series of workshops to provide an overview of the grant options and to answer application related questions.
More info and a link to apply is available here
.
The US Forest Service, National Park Service & US Fish & Wildlife Service partner to sponsor artist residency programs open to writers in wilderness area. Learn more here. Deadlines: March 1, 2017.
Storyknife Writers Retreat, a women's writing residency program in Homer, Alaska, seeks to raise $250,000 to build their main house, which they'll name "Eva's House" in honor of Eva Saulitis. Details
The Northern Review seeks submissions for their third literary issue (as opposed to scholarly issues), to be published in Fall 2017. Details below. Submission accepted through May 31, 2017. 
Thank You for Your Support! 49 Writers members and donors make this blog, our workshops, Crosscurrents events, Readings and Craft Talk series, and other special programs and activities possible.

Not a member yet? Join Us | Also, please include 49 Writers, Inc. in your Pick.Click.Give. choices when filing for your 2017 Permanent Fund Dividend.