Have news, events, or opportunities you'd like to see listed here? Email details to info (at) 49writers.org with "Roundup" as the subject. Spread the word. Your message must be received by close of business the Wednesday before the roundup is scheduled to run at the latest. Unless your event falls in the "Opportunities and Awards" category, it should occur no more than 30 days from when we receive your email. Thanks! 49 Writers Statewide Roundup will now appear biweekly, on the first and third Friday of each month.  
 EVENTS and ANNOUNCEMENTS
Congrats to Alaska authors, new Alaska State Writer Laureate Ernestine Hayes and Distinguished Service to the Humanities award winner Heather Lende, for their upcoming Governor's Awards, which will be presented at The Governor's Awards ceremony in Juneau on January, 26, 2017. It's open to the public to attend. Further details and tickets are available at www.akgovawards.org.
David Stevenson will be honored by the American Alpine Club in February with the H. Adams Carter Literary Award, which was established to recognize excellence in alpine literature. His most recent book is Warnings Against Myself (University of Washington, 2o16). He's the director of the Creative Writing and Literary Arts Department at the University of Alaska Anchorage and author of the short fiction collection Letters from Chamonix, winner of the Banff Mountain Festival Fiction Prize.
Thanks to everyone who came out to our last Reading & Craft Talk Series event last week, featuring Lizbeth Meredith, author of Pieces of Me: Rescuing My Kidnapped Daughters. Much more coming up in the months ahead, in Juneau, Anchorage, and Fairbanks. Author Brian Castner will come to lead our Danger Close: Alaska program, building on the success of our first Danger Close program spearheaded by Matthew Komatsu, who has since joined our Board of Directors. Danger Close helped launch the Alaska Humanities Forum's Duty Bound initiative, which draws on the power of the humanities to support deepened understanding of the experiences of those Americans affiliated with the armed services, whether active-duty, reserve, National Guard, retirees, or veterans. Castner will participate in a 49 Writers Crosscurrents event in Anchorage with Matthew Komatsu and Don Rearden. He'll also present a reading and talk on Friday, March 10 and a full day workshop in Juneau on Saturday, March 11, 2017 to a combined group of civilians and active duty, retired, and veteran writers. Exact details, including registration info, will be announced soon.
We're partnering with Juneau Public Libraries and University of Alaska Fairbanks, with the support of Alaska Humanities Forum, to bring poet Roger Reeves to Alaska on a three-city tour. He'll read and visit high schoolers in Juneau, teach a three hour poetry workshop and participate in a 49 Writers Crosscurrents event with Joan Kane in Anchorage on February 15 & 16, and then travel to Fairbanks to offer a craft talk on campus, a public Midnight Sun Reading Series reading, and one-on-one critiques with students.
SOUTHCENTRAL
ANCHORAGE | Alaska Quarterly Review presents Gary Holthaus: A Retrospective Celebration | 1976-2016. Thursday & Friday, January 26 & 27, 2017. Poetry reading and Q&A on Thursday; prose reading and Q&A on Friday; both events 7-8 pm at Great Harvest Bread Co. This AQR event is co-sponsored by 49 Writers, Center for the Narrative & Lyric Arts, and Alaska Humanities Forum. Facebook event.
ANCHORAGE | CIRQUE 8.1 launch featuring contributors. Wednesday, 7 pm, February 1, 2017, at Great Harvest Bread Co. 
ANCHORAGE | Nature and Travel Writing Class led by Anchorage essayist and author Bill Sherwonit runs for 12 weeks beginning Jan. 25 in the Sierra Club office downtown. Participants in this workshop-style class will explore and refine their own writing styles, with an emphasis on the personal essay form. The class will also read and discuss works by some of America's finest nature and travel writers, past and present. The cost is $240. To sign up for this Wednesday night class (7 to 9:30 p.m.), or for more information, contact Sherwonit at 907-245-0283 or akgriz@hotmail.com.
PALMER | Julie LeMay will sign The Echo of Ice Letting Go (University of Alaska Press | Alaska Literary Series 2017) on Friday, February 3, 2017 at Fireside Books, beginning at 4 pm. The signing will be followed at 6pm with a ticketed dinner at Turkey Red, including a book discussion between Julie and her daughter, Eowyn Ivey. Tickets available at Fireside Books or order online.
ANCHORAGE | 49 Writers presents Kathleen Dean Moore and Libby Roderick, 7 pm, doors at 6:30 pm, Monday February 6, 2017, 49th State Brewing Co., Barrell Room East, 717 W 3rd Ave, Anchorage. Cash bar. Free for 49 Writers members, $5 suggested donation for nonmembers. Cash bar. Barrell Room East is located downstairs. More details TBA. | Kathleen Dean Moore, Ph.D., is a philosopher and writer, best known for award-winning books about our cultural and spiritual relation to wet, wild places. Among them are Riverwalking, Holdfast, Pine Island Paradox, and Wild Comfort. Until recently Distinguished Professor of Environmental Ethics at Oregon State University, Moore's love for the reeling world has led her to a new life of climate writing and activism.  Her most recent book, Great Tide Rising: Toward Clarity and Moral Courage in a Time of Planetary Change, follows the pivotal Moral Ground: Ethical Action for a Planet in Peril, testimony from the world's moral leaders about our obligations to the future.  Moore's environmental writing returns to the wild-weather coast in her newest book, The Piano Tide, "a savagely funny and deeply insightful" novel about a small town's struggle to defend its fresh water. She writes from Corvallis, Oregon and from a small cabin where two creeks and a bear trail meet a tidal cove in Alaska. | Libby Roderick is an internationally acclaimed singer/songwriter, poet, activist, teacher and lifelong Alaskan. The surprising power and depth of her music and the humor and spontaneity of her performances have attracted large and enthusiastic audiences across the continent and fans all over the world. Her six recordings have received extensive airplay on Earth and, in 2003, NASA played her song "Dig Down Deep" on the planet Mars as encouragement to the robot "Spirit." Libby is well-known as an exhilarating and witty artist who offers a remarkable blend of passionate music, wry humor and incisive commentary on social and personal issues.
ANCHORAGE | Unbound: Conflict in Romance presents at 6 p.m., Friday, February 10, at the Anchorage Museum, featuring Alaska Romance Writers for readings and literary experiments. Lifelong Alaskan Lynn Lovegreen taught for 20 years before retiring to make more time for writing. Her young adult/new adult historical romances are set in the Alaska Gold Rush. Palmer writer Jackie Ivie branched into the paranormal romance genre after publishing several award-winning historical romances. She received the 2016 International Digital Award for best paranormal short story with the debut of her dark angel series, "The Hunted." She's currently researching, writing, and dreaming about the "Vampire Assassin League," a series where only the luckiest vampires find their mate, the "Chronicles of the Hunter" where dark angels get another chance, or her newest time travel series "The Portals of Time." Included with Museum admission.
ANCHORAGE | Chantelle Pence presents Recovering Our Human Heritage. Chantelle Pence and a panel of "indigenous minds," including Fred John Jr. and  Karen Evanoff, discuss the task of recovering our human nature as a collective people. Indigenous perspectives are often not recognized or acknowledged in modern day life, yet they provide guidance and pathways for walking as a true human being, which is everyone's birthright. Chantelle Pence is author of Homestead Girl: The View From Here, a patchwork quilt of poetic essays that covers the human condition, from the perspective of a woman who came of age in rural Alaska. The short prose pieces are stitched together with a thread of love for our ancestral heritage, and a prayer that the people of Alaska, and beyond, will pay attention to the earth based cultures that are rapidly changing. The author believes that "Alaska is the last chance (in America) we have to get it right, in terms of our relationship to the land and her people." Free parking at UAA on Saturdays. For more information contact Rachel Epstein at repstein2@alaska.edu or 786-4782. UAA Campus Bookstore, Saturday, February 11, 2017, 1-3 pm.
ANCHORAGE | Poetry workshop with Roger Reeves, February 15, 2017, 6-9 pm, Alaska Humanities Forum, 161 E 1st Ave #15, Anchorage, AK 99501. Open to all levels. Description and registration opening soon at 49writers.org.
ANCHORAGE | 49 Writers presents Crosscurrents: Poetry & Politics with Roger Reeves & Joan Kane | 7 pm (doors at 6:45), Thursday, February 16, 2017, location TBA. Poets Roger Reeves and Joan Naviyuk Kane discuss lyric (dis)equilibriums that spring from selves variously sourced by the South and the North, from past and history, and the ways that place informs our perspectives as readers, writers, and teachers of poetry. Free to 49 Writers members, $5 suggested donation to non members. Books available for sale and signing. Cash bar.
ANCHORAGE | Alaska Quarterly Review launch, Friday, February 24, 2017 at Great Harvest Bread Co., exact details TBA.
ANCHORAGE | 49 Writers Reading & Craft Talk Series presents "Surprise and Delight: Capturing the Indelible Moment" by Daryl Farmer, author of Where We Land: Stories (Brighthorse Books, 2016). 7 pm at Indigo Tea Lounge, 530 E Benson Blvd, Anchorage, AK 99501. Come early to order tea and snacks! Daryl Farmer is the author of  Where We Land, a collection of short stories and Bicycling Beyond the Divide, winner of a Barnes and Noble Discover Great New Writers Award and also named as a Colorado Book Award finalist. He was born in Colorado Springs, at the foot of the Rocky Mountains where he developed a taste for the open road at an early age, and has spent a life roaming the country and writing about its landscapes and people. He has lived in New Mexico, Oregon, New Hampshire, Mississippi and Alaska, among other places. He received a B.A. in physical education from Adams State College (Alamosa, Colorado) and an M.A. and Ph.D. in creative writing from the University of Nebraska-Lincoln. He has taught writing at Georgia Tech. University, Stephen F. Austin State University in east Texas and the University of Alaska-Fairbanks where he is currently an assistant professor and director of the MFA in Creative Writing program.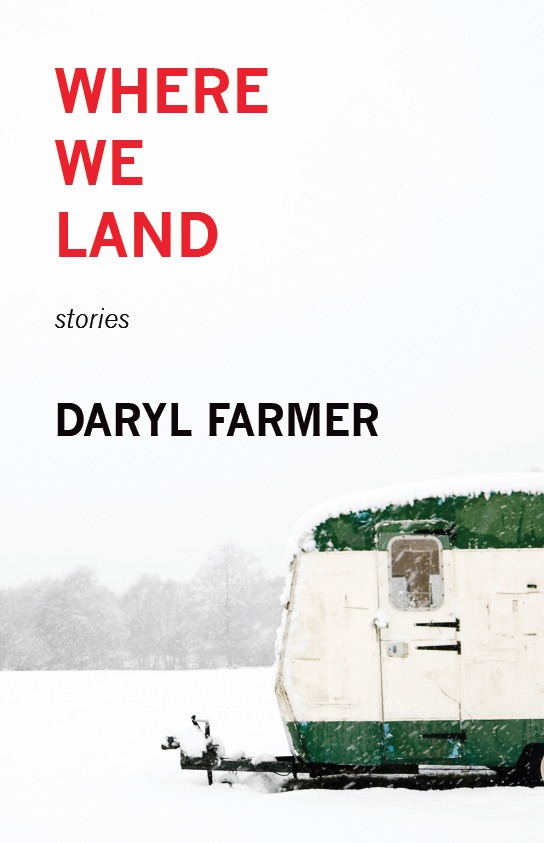 ANCHORAGE | March 31-April 1, 2017 | Organized by the graduate students within the University of Alaska Anchorage English department, the Pacific Rim Conference on English Studies invites submissions in literature, rhetoric and composition, linguistics, anthropology, history, journalism, gender studies and other related fields. See the call for proposals here.
EAGLE RIVER | The Living Room Reading Series, every 2nd Wednesday 7-9 pm at Jitters, featuring writers and book lovers. Sign up to read, or come listen. More
INTERIOR 
FAIRBANKS | UAF's Midnight Sun Reading Series presents poet Roger Reeves in partnership with 49 Writers, Juneau Public Libraries, and Alaska Humanities Forum. Friday, February 17, 2017, details TBA.
FAIRBANKS | Fairbanks Arts Association hosts the oldest literary reading series in the state. Nearly every month, writers reading their own work publicly at a community meet-up where people can connect with other lovers of literature. Readings are held on the day after First Friday, usually the first Saturday of the month at 7 pm. Most reading are held in the Bear Gallery in Pioneer Park, although occasionally in the summer (June, July, and August) the weather is beautiful reading are held outside to another spot in Pioneer Park. Additional readings and events may be held, but the First Saturday Literary Reading Series is monthly at 7 pm the day after First Friday (except February).
SOUTHEAST
JUNEAU | Poet Roger Reeves will offer a 49 Writers Reading & Craft Talk Series event at Mendenhall Valley Library's Large Meeting Room, 6 pm, February 14, 2017. Free. Roger Reeves received an M.F.A. in creative writing and a Ph.D. in English from the University of Texas, Austin. His poems have appeared in Poetry, Ploughshares,  American Poetry Review, Boston Review, Tin House, Best American Poetry, and the Indiana Review, among other publications, and he was included in Best New Poets 2009. Reeves was awarded a Ruth Lilly Fellowship from the Poetry Foundation in 2008; he is also the recipient of two Bread Loaf Scholarships and a Cave Canem Fellowship. In 2012, Reeves received a National Endowment for the Arts Fellowship and a Pushcart Prize for his poem "The Field Museum." He is an Assistant Professor of Poetry at the University of Illinois, Chicago, and a 2014–2015 Hodder Fellow at the Lewis Center for the Arts, Princeton University. King Me (Copper Canyon Press, 2013) is Reeves's first book. We're partnering with Juneau Public Libraries and University of Alaska Fairbanks, with the support of Alaska Humanities Forum, to bring poet Roger Reeves to Alaska on a three-city tour.
JUNEAU | January 6-February 25, 2017 | An exhibition by poets Aleria Jensen and Jonas Lamb featuring a collection of original broadside poems on parenting and place, paired with montages of artwork by their children. The writing in this exhibit explores moments and musings that inform the experience of raising family in Southeast Alaska. These pieces are windows into family life and parenting against the backdrop of culture and community in Juneau, as well as the marine rainforest environment we call home. Juneau-Douglas City Museum, 114 West 4th Street.
JUNEAU | Poetry OmniBus is accepting submissions until January 31, 2017. The Poetry OmniBus Program is a local juried poetry contest that selects poems for display on Juneau city buses for one year. The program nurtures local writers and provides inspiration, reflection, and consideration to the bus ridership. It also showcases local talent to visitors and community members alike. More info and details on how to submit work.
JUNEAU | 49 Writers presents poet Julie LeMay, author of The Echo of Ice Letting Go (University of Alaska Press | Alaska Literary Series 2017) with Jeremy Pataky, author of Overwinter. March 6, 2017. Details TBA.
JUNEAU | Poetry Out Loud National Recitation Contest state finals. Juneau Arts and Humanities Council. Details TBA.
JUNEAU | 49 Writers and Juneau Public Libraries present author Brian Castner in Danger Close: Alaska in partnership with Alaska Humanities Forum, through their Duty Bound initiative. Brian Castner is a nonfiction writer, former Explosive Ordnance Disposal officer, and veteran of the Iraq War. He is the bestselling author of All the Ways We Kill and Die, and the war memoir The Long Walk, which was adapted into an opera and named an Amazon Best Book for 2012. A contributing writer to VICE, his work has also appeared in the New York Times, Washington Post, The Atlantic, Wired, Foreign Policy, Outside, Buzzfeed, Boston Globe, Time, The Daily Beast, the Los Angeles Review of Books, and on National Public Radio. He has twice received grants from the Pulitzer Center on Crisis Reporting, to cover the Ebola outbreak in Liberia in 2014, and to paddle the 1200 mile Mackenzie River to the Arctic Ocean in 2016. His latest project, a co-edited collection of short stories titled The Road Ahead, was published this month. His time in Juneau includes two events:
1) Friday, March 10, 2017, 6 pm at the Mendenhall Valley Library's Large Meeting Room (free), a 49 Writers Reading & Craft Talk Series event titled "Who Owns The Story?" Joan Didion said that a writer is always selling somebody out. Brian Castner will talk about his new book, "All the Ways We Kill and Die," the story of the death of a fellow soldier and search for the Afghan bomb-maker who killed him, and what nonfiction authors owe their subjects when writing about their innermost lives.
2) Saturday, March 11, 2017, 10 am – 4 pm, location TBD, Brian will lead a full-day nonfiction writing workshop open to everyone, including civilians, active duty and veterans. Registration and full description coming soon.
                                                                   SOUTHWEST
NA
ARCTIC 
NA
CONFERENCES, RETREATS, and RESIDENCIES
North Words Writers Symposium will be May 31-June 3, 2017 in Skagway, Alaska. This year's keynote speaker is world world travel and fiction writer Paul Theroux. After writing nearly fifty books of nonfiction and fiction set in the most exotic of locales, America's greatest travel writer is finally headed for one of Alaska's most notorious: Skagway. Paul Theroux will lead a faculty of seven acclaimed authors at the 8th annual North Words Writers Symposium. A maximum of 50 registrants at the 2017 North Words Symposium will also engage with a faculty of Alaskan writers that includes John Straley, Sherry Simpson, Deb Vanasse, Tom Kizzia, Andy Hall, and Lenora Bell. Learn more and sign up soon; 50 participants max. northwordsinfo@gmail.com
2017 Kachemak Bay Writers Conference will occur June 9-13, 2017 in Homer, Alaska. Keynote speaker will be Jane Smiley. Details and more.
2017 Writers Tutka Bay Writers Retreat will occur September 10-12, 2017. Faculty to be announced soon. Details.
The Alderworks Alaska Writers and Artists Retreat in Southeast Alaska is now accepting applications for its summer 2017 cabin residencies. Three log cabins will be available as residencies for two 4-6 week periods in early and late summer. The application period for these residencies began on November 15, 2016 and will end on February 15, 2017. The retreat is located nine miles from historic Skagway at the northern end of Lynn Canal.  Situated on a five-acre homestead along beautiful West Creek at the end of the Dyea Road, the retreat is within the Dyea-Chilkoot Trail unit of Klondike Gold Rush National Historical Park. Dyea (pronounced Die-eee) was a jumping off point for young Jack London and other stampeders in 1897-98. For hundreds of years leading up to that event, Dyea was a Tlingit fishing and trading village. Testimonials, a photo gallery, cabin descriptions, residency guidelines, and information about how to apply online may be viewed at www.alderworksalaska.com. The cabins are best suited for writers, artists working in small mediums, and acoustic singer-songwriters. All residents must have a degree of self-reliance, as they will be doing their own cooking and working on their own schedule. In their vision statement, the Bradys state, "The idea is simple enough: give writers and artists a quiet, beautiful spot to create or enhance their works, and wonderful things will happen."
Storyknife Writers Retreat now accepting applications for June, July, August, and September 2017. On ten acres of view property just outside Homer, Alaska, Storyknife will be one of the very few residencies for women writers in the English-speaking world. Eventually, the facility will include six private cabins, a main house, and a garden. Currently, one fully-equipped writers' cabin has been built with a stunning view overlooking Cook Inlet, Mount Iliamna, Mount Douglas, and Mount Augustine. Women writers over 21 years of age are invited to apply for a residency in the Storyknife cabin. This residency will can be 2-4 weeks, and for each week she is in residence, the resident will receive a $250 stipend to cover food and transportation costs. Applications will be accepted until January 27, 2017 through Submittable. The vision of award-winning novelist Dana Stabenow, Storyknife seeks to support women writers by providing uninterrupted time for development of their craft. In 1989, Stabenow won a residency at Hedgebrook, a retreat for women writers on Whidbey Island in Washington. The profound impact of that residency, and the fact that Hedgebrook receives many more applications that they have spots to host writers, has inspired her to develop such an opportunity for women writers on property outside of Homer, Alaska. More: https://storyknife.org/
OPPORTUNITIES and AWARDS for WRITERS
The Governor's Awards for the Arts and Humanities ceremony will be held in Juneau on Thursday, January 26, 2017. Visit ASCA's website here for information about last year's Governor's Awardees, and here for the Alaska State Writer Laureate program.
23rd annual Statewide Poetry Contest now accepting entries. Deadline: 6 pm, February 1st, 2017. Administered by the Fairbanks Arts Association, this year's contest will be judged by Jeremy Pataky. Cash prizes. Details
35th annual UAA/Alaska Dispatch News Annual Creative Writing Contest is accepting entries. Deadline: 5:30 pm, February 12, 2017. Over $800 is cash prizes. Details
Alaska Women Speak's Spring 2017 reading period is open. Theme: The Road Not Taken. Deadline: February 15th. New email address: akwomenspeak@gmail.com. Additional info on the website: www.alaskawomenspeak.org
Rasmuson Foundation applications for Individual Artist Awards are open until March 1, 2017. The Foundation will host a series of workshops to provide an overview of the grant options and to answer application related questions. More info and a link to apply is available here.
The US Forest Service, National Park Service & US Fish & Wildlife Service partner to sponsor artist residency programs open to writers in wilderness area. Learn more here. Deadlines: March 1, 2017.
Storyknife Writers Retreat, a women's writing residency program in Homer, Alaska, seeks to raise $250,000 to build their main house, which they'll name "Eva's House" in honor of Eva Saulitis. Details
The Northern Review seeks submissions for their third literary issue (as opposed to scholarly issues), to be published in Fall 2017. Details below. Submission accepted through May 31, 2017. 
Thank You for Your Support! 49 Writers members and donors make this blog, our workshops, Crosscurrents events, readings and craft talks, and other programs and activities possible. Not a member yet? Join Us | Also, please include 49 Writers, Inc. in your Pick.Click.Give. choices when filing for your 2017 Permanent Fund Dividend.